About the CloudCode™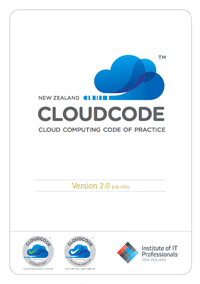 Through the Cloud Computing Code of Practice (CloudCode), professional and responsible cloud service providers benchmark and demonstrate their practices, processes and ethics via an independent third party to build trust with prospective customers.
Signatories to the CloudCode take their responsibilities seriously and make two key commitments:
They won't say an offering is "Cloud Computing" unless it really is (ie. no "Cloudwashing"). There are specific and significant benefits from genuine Cloud products or services but unfortunately some unscrupulous providers try to pass non-Cloud products or services off as Cloud Computing.
They will disclose important details about their Cloud products and services - upfront - to allow potential customers to make informed decisions. No surprises, no hiding behind sales pitches, and no obfuscation. Just the facts. And to be sure, the CloudCode sets these disclosures out in detail.
The disclosures required of the CloudCode cover all aspects of the provision of Cloud products and services, and with most disclosures outlined in plain English, Cloud users can have confidence that they're able to make an informed decision, whether they themselves are Cloud experts or not. Users should refer to the CloudCode Guidance in interpreting disclosures, along with the guidance from the Office of the NZ Privacy Commissioner.
The CloudCode (and disclosures) was developed with input from over 250 cloud providers, users, individuals and other stakeholders and was funded by a group of Cloud providers keen to protect the integrity of this important future-focused sector.
The original CloudCode was developed with financial support from:
Major Contributors
Equinox IT, Gen-i, OneNet, Webdrive, Xero, Institute of IT Professionals NZ Inc.
Other Contributors
Salesforce.com, Google, EOSS Online, InternetNZ, NZRise, Systems Advisory Services.
In July 2013 and following extensive consultation, the Institute of IT Professionals NZ released Version 2 of the CloudCode and announced the Register of CloudCode Signatories, which went live in mid-August 2013.
History of the CloudCode
You can view the History page to find out about the history of the Cloud Computing Code of Practice.
Maintaining the CloudCode
The CloudCode will be reviewed on a regular cycle. It is expected that minor changes are made every six months, with an annual review conducted to ensure it remains relevant and up-to-date with changes in Cloud technology and application.
Any significant changes to the requirements of the CloudCode will be widely consulted and will only proceed with the support of the Cloud Computing industry. Changes will take effect following a notice period.
More Information
Visit the CloudCode page to find out more about what is contained in the CloudCode, where it operates and the complaints process.